Turriff Angling Association
Turriff Angling Association have 3/4 mile of fishing just outside Turriff. It caters for visiting anglers with both daily and weekly tickets. It boasts eight pools which will fish in all heights of water. Although mainly fly fishing, spinning and worming are allowed in periods of high water. Salmon of 15 lb are not uncommon whilst a 30 lb fish was landed and returned in October 2002. Sea-trout arrive in June and average 2 to 3 lb but the Deveron does yield a number around 7 lb each season.
Despite its length (although the bottom half is double bank) it can be a prolific beat in higher water. In the year 2002 it came in the top five beats on the number of fish caught.
Buy Permit: Click on the calendar below.
The Pools
The Kirns is the upper pool of the beat. It is a long slow pool and fishes well in a spate. Fish enter the pool after a run up fast water and often stop for a rest along its whole length. A great salmon pool.
The Island Stream is the next pool down. It has a narrow neck and is usually too fast to fish at the top but fish can lie at the far side off the stream. As it calms down fish lie from the middle to the far side and can be easily covered from the bank. Floods destroyed this pool in 2002 and it was re built in 2003. It has not yet regained its best pool on the beat status .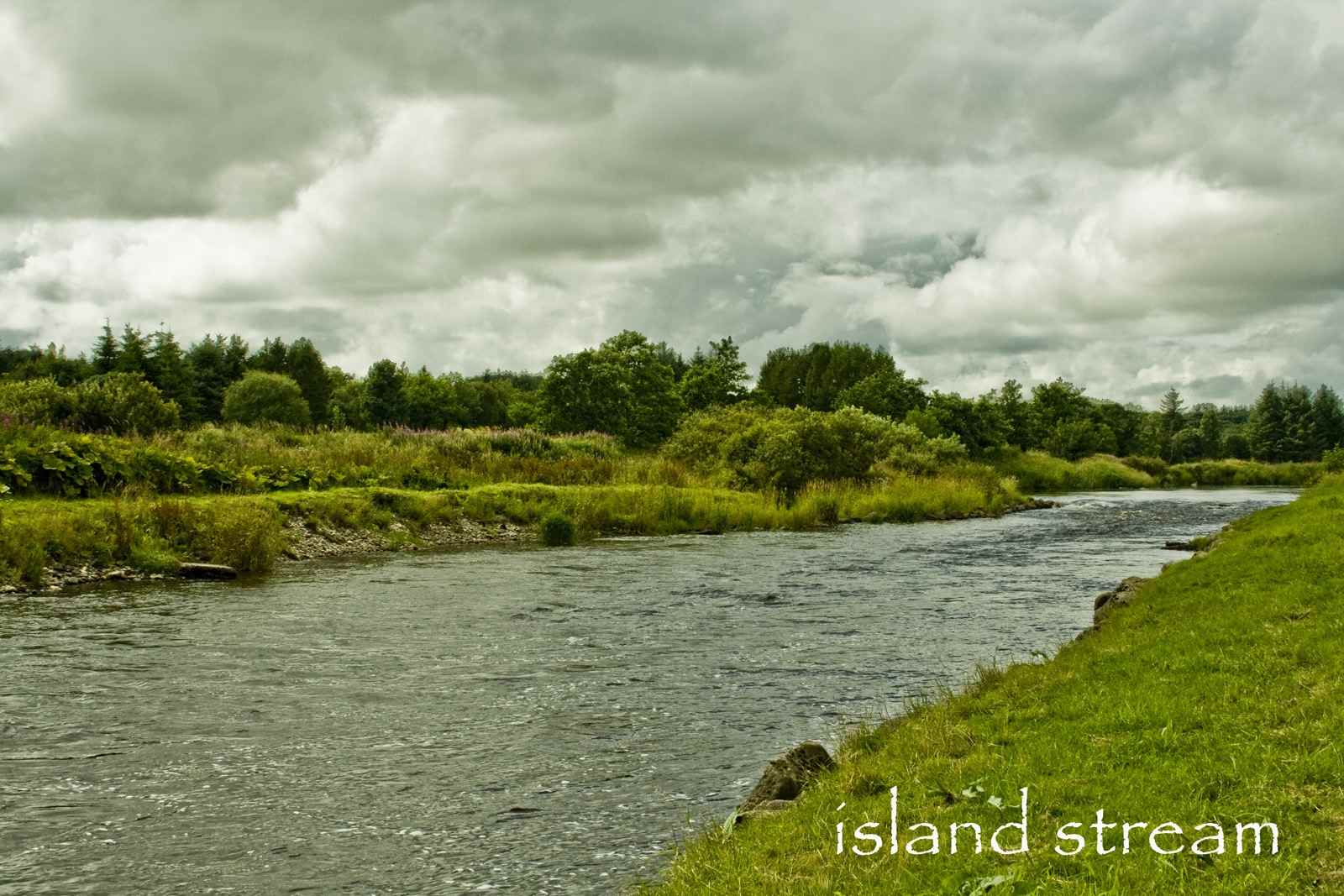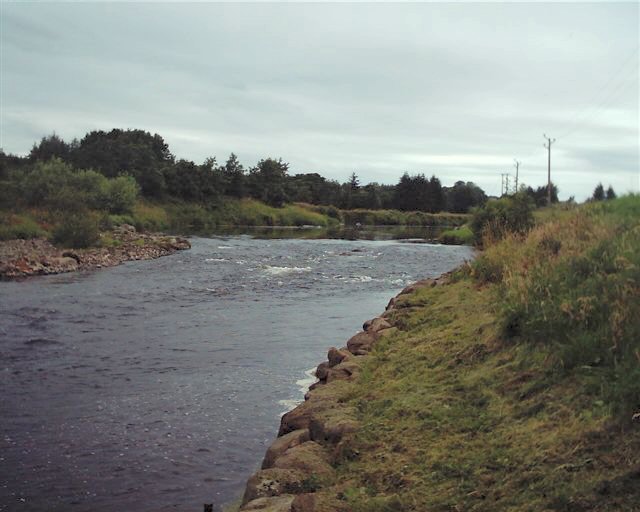 Island stream running down from the Kirns
The Burn Mouth and Corner Pools run into each other and can produce large numbers of fish when they are running. They slow as they come round the bend and are best covered with a spinner in high water. A 30 lb fish was taken and returned here in 2003.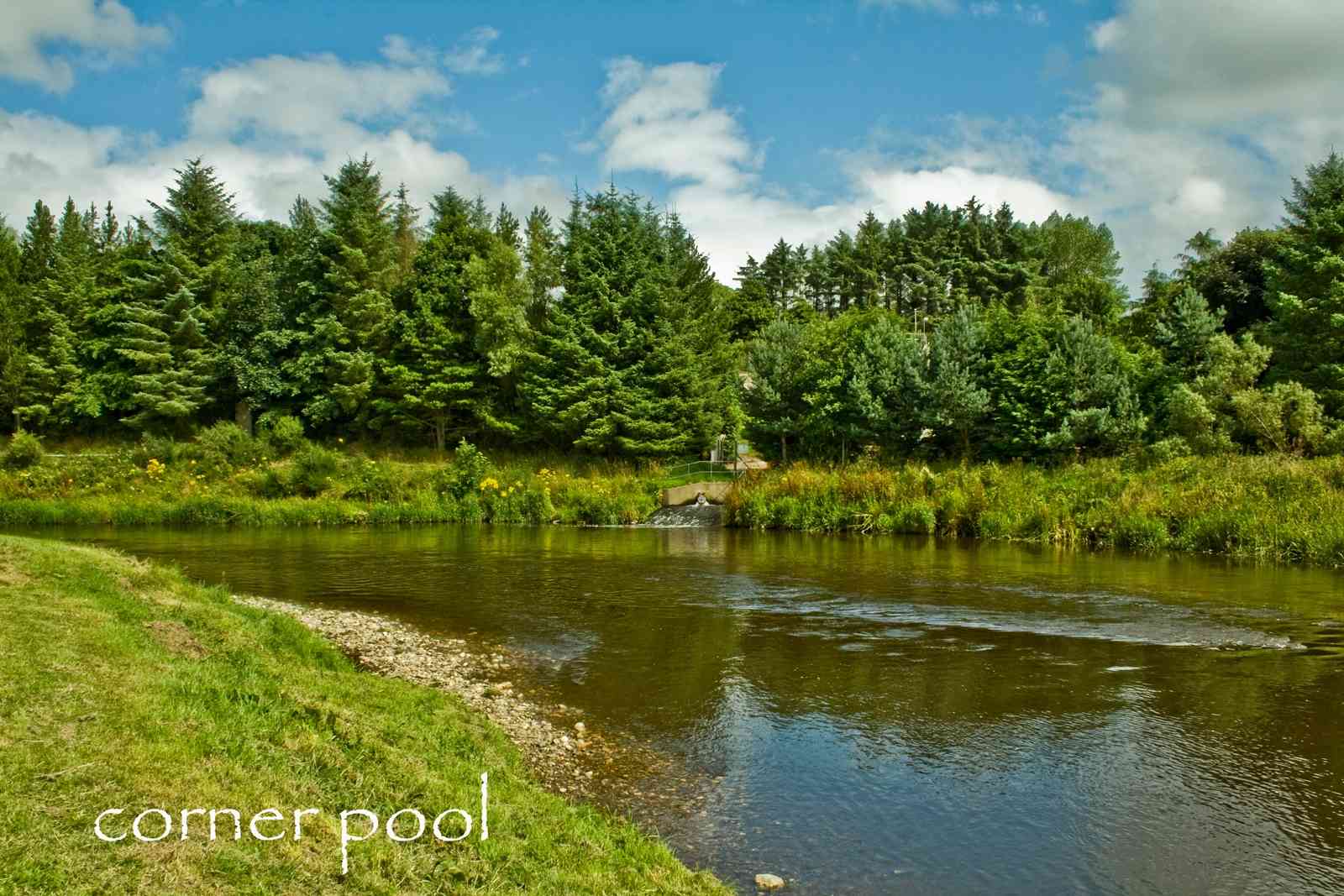 The Worming Hole is the pool below the bridge and has a flow through the centre of it. This allows fish to be taken from both banks and it yields many fish over a season. The tail of the pool is excellent fly water and is a good spot for both salmon and sea-trout.
The Flats can really be divided up into four pools as they are all different and cover around 200 yds of water. The top part is fast water and is a good holding spot. The hot spots are just as the rough water fines down. It then becomes a slow pool but is one of the best spots for sea-trout at night. It then narrows and enters rough water which again is a good holder of fish just under the electric wires.
The Bottom Hole is a long pool again with fast water at its head and fines away into a long glide of flowing water over a deep bottom. This pool is good for sea-trout in June and holds many a salmon in the back end. It has the look of three pools because of the croys and then it slows away into Knockiemill. This pool belongs to Forglen but the club has full use of it on a FLY ONLY basis. It can be productive close to the far bank and is an excellent long pool for the dry fly after some big brownies.